Beatriz Galindo and La Latina Neighbourhood
Beatriz Galindo, La Latina – An Intellectual in the Court of the Catholic Kings and a famous neighbourhood of Madrid
One of the most well-known and fun neighborhoods in Madrid bears the name (or the nickname) of one of the most notable women in the 15th century: La Latina, whose real name was Beatriz Galindo and that, with no doubt, was a woman ahead of her time.
Beatriz Galindo was born around 1465, in the city of Salamanca, in a noble family with just few funds. Perhaps this motivated her parents to want to make her a nun, thus saving the dowry that they would have had to pay for the girl to get the right marriage.
Surely the office of novice was the one of the very few ones to which a woman could aspire demanding a certain qualification at the time, so she prepared for it getting a good intellectual instruction. Beatriz showed special interest in the study of Latin and it was such her ability to learn the classical language that she soon mastered it and began to be known throughout the kingdom as "La Latina".
That fame she earnt made it possible that, despite her status as a woman, Queen Isabel The Catholic hired the young woman to enter the court to be her tutor and her Latin's teacher, as well as her daughters'. In addition, chroniclers of the time assured that Isabel fully trusted Beatriz and so she became a chambermaid of her Highness and they came to enjoy a close relationship. So much so, that she remained very close to the queen until her death in 1504.
At the first years of the 16th century, Beatriz Galindo settled permanently in the town of Madrid, until her death in 1535. Here she promoted the creation of religious and charitable associations, such as the Concepción Jerónima Convent and the Concepción de Nuestra Señora Hospital (known as La Latina Hospital), which was dedicated to take care of sick people with no means. These buildings were located on Calle Toledo, near Mercado de la Cebada. Today there's only a plaque in Toledo 52 reminding us that the hospital was there, since these buildings were demolished at the end of the 19th Century and early 20th. At least, the facade of the entrance of the Hospital is preserved at the entrance of the School of Architecture in Ciudad Universitaria and its Gothic stone staircase is in Casa de los Lujanes in the Madrid of the Austrians.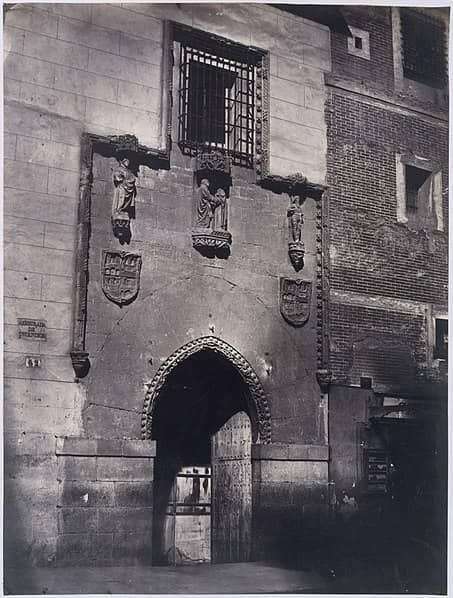 Although there are few phisical traces of Beatriz's life and legacy in Madrid, her great influence today is reflected in the existence of a district, a street, a public school, a center to help homeless women, a theater, or a subway station named in her honor. And also, one of the most traditional neighborhoods in the city, La Latina, where the convent and hospital founded by Beatriz were located.
El Barrio de La Latina
La Latina is one of our oldest neighborhoods, taking a good part of Madrid of the Austrians area. With buildings as important as the Basilica of San Francisco el Grande or such emblematic squares as La Cebada or La Paja.
Its streets with a medieval origin are very much frequented by locals and tourists as there you can find plenty of bars, restaurants and taverns full of charm. In addition, every Sunday morning the most famous flea market in the city, "Rastro de Madrid" fills this part of the city with a great atmosphere. And in summer the most important outdoors popular festival in La Latina, "Verbena de la Paloma" fills its streets with party, making the stay in Madrid in August a pleasure, despite the high temperatures.
So we already know that with "La Latina" we can refer to several things: in Madrid, a neighborhood full of fun and places to visit; in history, a woman of great knowledge who got, in a way, recognized the intellectual capacity of women in the 15th century.
Remember that if you want to continue discovering much more history, curiosities and places to visit in Madrid such as La Latina, you can join one of our free tour Madrid from Monday to Sunday. We hope to see you soon!
¡Haz clic para puntuar esta entrada!