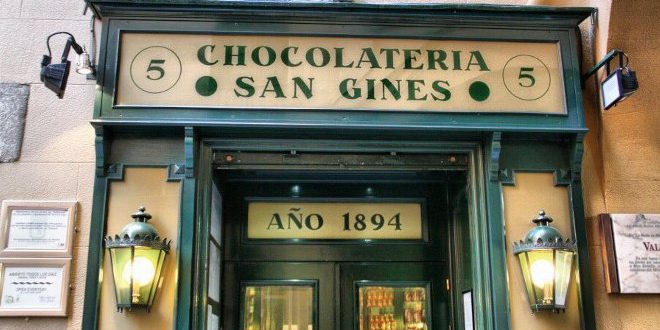 Chocolatería San Ginés | A Historical Place
There is no doubt that one of the gastronomic icons of Madrid is the chocolate churros, and the best known place is the Chocolatería San Ginés, just a few meters from Puerta del Sol. This local went from being the bohemian and secluded churros bar, to being a highlight in any tourist guide.
We start with something of upmost importance: Chocolatería San Ginés it is always open, every day, at all hours. 24/7. New Year included. Just some practical information to begin with.
We can found this traditional place in the Alley of San Ginés, with its tiles and its white marble tables. Founded in 1890 as an inn, it became a churrería in 1894, being one of the oldest in Madrid.
Being next to the Eslava Theater, his fame began with people having a chocolate with churros after the shows. Today the theater is a nightclub, the Joy Eslava and nothing has changed. Since the site is open 24 hours, it is also a meeting place for night owls and a particular kind of afterparty in the center where magic can happen.
Many famous characters have passed across its fours halls. We only have to look at the photographs of the interior or the decorated wall on the outside where we can see the writers Valle-Inclán, who walks through the alley, and Benito Pérez Galdós, sitting with a cat in his lap.
In fact at the entrance we have some plaques dedicated to Valle-Inclán and his work Luces de Bohemia (Bohemian Lights in English). These plaques are placed in representative points of the famous work. On the last Saturday of each March (soon to happen) the "Night of Max Estrella" is organized. There this play is commemorated and performances are made in all the places that have these plaques. Max Estrella is the name of the protagonist of this work. We have made the tour they organize, at the doing-doing of a cowbell, and we recommend it. You can find more information in an article we have on that subject "Circulo de Bellas Artes and Valle-Inclán". Valle-Inclán called the Chocolatería San Ginés the "Modernist Buñolería", and Don Benito Pérez Galdós mentions it in his National Episodes.
What is typical here? Hot and thick chocolate with porras (batons) or churros. A wonderful blend between the sweetness of chocolate with its slight bitterness, and the crispy oily churro. The traditional thing is to eat it very soon for breakfast or for snack especially in the hardest of winter. However, for those sweet-toothed any moment is good to give a try to this 200 years old tradition.
We cannot stop recommending going down to the ground floor of Chocolatería San Ginés to enjoy the atmosphere, the sensation of conclave as you taste some churros como dios manda. It is also interesting to take a look at the photos of celebrities who have gone through this terrible punishment, from actors, football players, or politicians. If you want to know more about this area of Madrid, do not hesitate to join our Guided Tours and Free Tour Madrid of the old city, Barrio de los Austrias, in which we discover all the stories of the surrounding area of San Ginés. As for now we invite you to start the day or end a wild night out (perhaps coincidental) in this traditional place.
¡Haz clic para puntuar esta entrada!