El Rastro: Madrid's Most Traditional Flea Market
With origins dated back in the 17th century, today El Rastro is the most famous street market in Madrid and a place where you can sell and buy literalky everything: brand new gadgets, second-hand items, luxury antiques and even authentic scrap.
Every Sunday morning and until lunchtime (keep in mind that's spanish lunchtime, so around 15h), in La Latina quarter, Ribera de Curtidores street and all the adjacent side streets close to the traffic to become a great street market, Madrid's El Rastro. In this crowded market designed for both Madrileños and tourists, you can find a selection of very diverse gadgets: handicrafts, works of art, furniture, clothing, sunglasses, electronics and hardware, vinyl records, CD's, DVD's, Blurray, minerals, old magazines and books, army surpluses… even a wide range of useless items.
This outdoor market is known as "El Rastro" (the Trail in english) referring to a blood trail. This somewhat macabre name comes from slaughterhouses located in La Latina area in the 17th Century. From here, the spoils of the slaughtered animals were dragged out and loaded into the cars, leaving a visible trace of blood on the ground. The bloody name appears repeatedly in 17th-century manuscripts that are now preserved in the National Library.
In addition, in the oldest map of Madrid, the map of Witt (drawn between 1623 and 1635) already appeared the name of "El Rastro" in the area where these slaughterhouses were located in the 17th century, today very close to where Ribera de Curtidores is. In the famous 1656's map of Texeira and later ones of the 18th century it also appears the name Rastro in this area of ​​what is now the neighborhood of La Latina. Two of these slaughterhouses survived until 1928 when they were transferred to the Legazpi neighborhood.
So since the 17th century in this area we found butcher shops and leather tanning (shoes, clothes, leashes, mounts). Then, towards the end of the 18th century, vendors of groceries, tahonas, tools, all kinds of junk, and even stolen objects would come to this area. These new positions were located in the old Plazuela del Rastro and Ribera de Curtidores. In the 19th century the antique dealers joined this market, and the shops selling furniture or jewelry; the shops of old books, art galleries and bazaars. These made El Rastro get away from the slaughterhouse acquiring an aspect and utility more similar to the ones today.
On Sunday mornings, the removable stalls that spontaneously and disorderly offered all kinds of equipment, became more and more numerous until it became a very attractive Sunday market for locals and travelers. In literary works of the 19th century, this market is already referred to as a Sunday market where valuable antiques are sold among other "waste".
Closer to the present, it should be noted that from the 70s many artisans settled in what can now be considered an emblematic point of El Rastro, not only for their little shops and tents, but also for the beers and tapas that every Sunday thousands of people enjoy in its bars: the Plaza de Cascorro. Another important change during the 80s and 90s was the regulation and drastic reduction of the size of El Rastro by order of the Madrid City Council.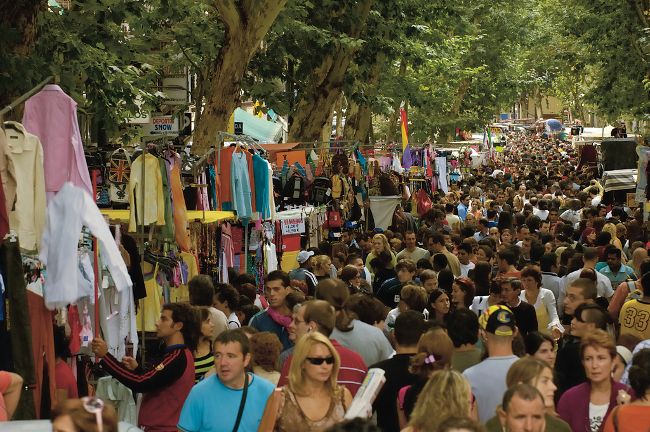 Today, within the small "chaos" that still reigns in each little shop of El Rastro, the reorganization that has been experiencing over the years has made it possible to divide the market into different parts, each one of them specialized in different types of articles, which facilitates the "treasure hunt". Hunt that has survived through the centuries despite rogues and thieves, noise, smells and disorder, and that will surely remain with us being a classic on Sunday mornings in Madrid.
If you want to keep on discovering many more curiosities and places to visit in Madrd like these, you can join one the best Free Tour Madrid from Monday to Saturday. We will be waiting for you with our Light Blue Umbrella in Puerta del Sol!
¡Haz clic para puntuar esta entrada!